In the spring of 2004, Cross River Software teamed with its design partner indego:MEDIA to found the company focal_EVENT for the purpose of developing an online, real-time system for booking meeting and conference space. We previewed a beta release of the application at the Northwest Event Show in September, 2004 to enthusiastic reviews.
As we developed our product and business model, we explored the possibility of adapting and marketing our application to large offices as an in-house tool for booking meeting rooms and tracking resources. We approached one of the regional offices of American Express Financial Services (now Ameriprise Financial) and they immediately saw the potential of the software.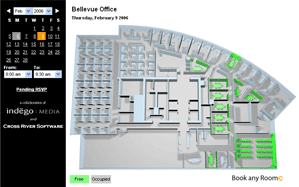 Ameriprise provides meeting rooms and resources (projectors, laptops, etc.) for dozens of financial advisors to meet with their clients. Since many of these advisors work outside and only use the main office for meetings, Ameriprise was constantly running into scheduling conflicts. They also had various booking and reporting requirements that made the customary software calendar tools--such as Outlook and Lotus Notes--impractical.
Working closely with a group of advisors, we adapted our original concept to meet the needs of Ameriprise. The result is a feature-rich, web-based calendar tool that allows advisors to easily check the availability of rooms and to book them with the click of a mouse. The application also allows advisors to check out resources such as projectors and laptops, to invite attendees, to print out daily and weekly schedules, and to manage their meetings using an intuitive user interface.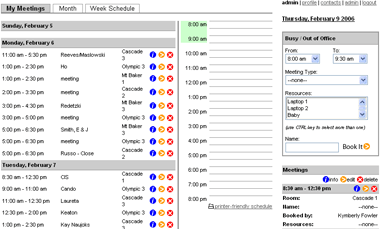 On the administrative side, focal_EVENT makes it easy for a manager to monitor the status of rooms and resources, to generate reports on room usage and advisor bookings, and to perform a variety of other tasks that had previously been done manually. One such task--assigning "coaches" to cover the meetings of apprentice advisors--was a logistical nightmare that used to require hours of effort. Using focal_EVENT, a manager can assign available coaches to meetings in a matter of minutes.
focal_EVENT has been used at Ameriprise offices throughout the Pacific Northwest.
"focal_EVENT has allowed us to effectively manage our facility and streamline a once time-consuming process."
- David Hayashi, MMGO Ameriprise Financial Services